Many people enter into dairy farming with full swing and exit without any notice. Because it is not an easy profession, without knowing its pulses, says Mr Prabhakara Hegde, a successful dairy man runs it from last 30 years. Dairy provides daily income source to farming community. He says dairy farming is profitable.
73 years old Mr. A Prabhakara Hedge, from Nittade village Belthangady taluk, Dakshina Kannada Karnataka runs the dairy by local cross breed cows. Initially he started this by 3-4 local cows. Through artificial insemination, he improved the breed into high milk yielders. Now his dairy is more than 20 cows and few calves.
How to start Dairy:
According to him, maintenance of cattle's in dairy farm is  mainly based on capacity of feeding and running etc. Among 20, around 12 cows yield milk and daily milk production is average 130 liters per day. He is the big and continues milk supplier or producer in small village Nittade, says milk producers cooperative society secretary. Hegde says cow rearing is not a big thing but running this continuously is the main thing. For this we have to make clear calculations. Do not go for pure breeds like HF, Jersey etc, because it will not adjust to our climate condition. Local is the vocal which we have not encashed its milk yielding potential. Cross the local by higher breed and get healthy cross local breed and get good milk from this. These cows also yield equal milk comparatively with imported breeds. If quantity become less sometime, it will adjust to the cost of cows and maintenance. Before starting dairy we have initiate with local breeds which are available in cheap rate and adjustable to local conditions. Here we can learn many practical ideas. After the experience we can go for more numbers. Local cross breed cows are highly disease resistant and also they give more than 10 calf. They eat all kinds of weed along with grass etc from farm land.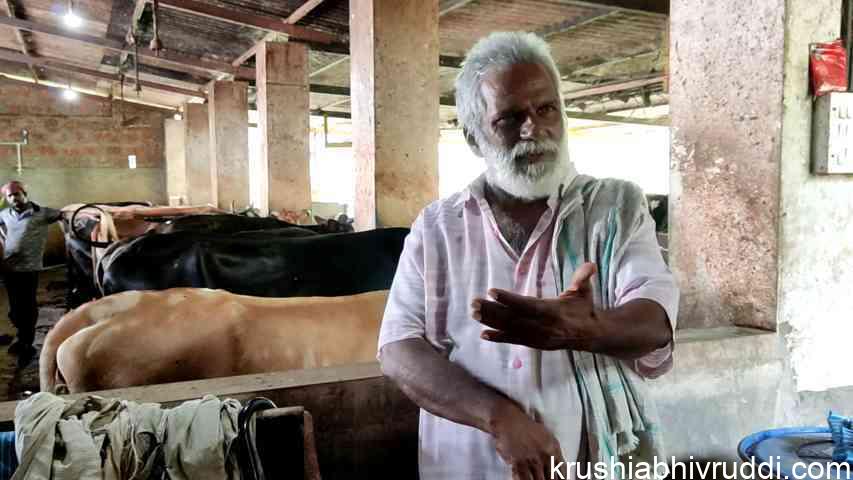 In Dairy we have to curb the costs in initial establishments. If you are not succeeded in this, it is easy to exit from this also. We cannot lose more like high tech dairy. Many people failed in dairy farming, because of initial wrong steps taken by them. Dairy is the free less occupation. It needs complete involvement. Intention of making high profit is not possible from dairy farming. It is the part and parcel of farm land management.
Fodder to Cows:
Farm land provides sufficient fodders to cows. Farm land have sufficient weeds which is good fodder to cows. We can control the weeds by cutting and feeding to cows. It will bring back the manure which is weed seed free manure. All weeds of farm land steal nutrients which we apply to crops. If we feed this to animals it will recycle again to farm land. So it is a cycle in agriculture and nutrient management. Mr Hegde feeds much fodder from his arecanut garden and grow some grass for emergency purposes. The most common weed like Tridax procumbens (Belong to Asteraceaea family) is good fodder to cattle because it helps to yield more milk. He treat this weed as boon to areca garden. Many people are striving to control this weed by spraying weedicides, but he is not using weedicide. This weed grow faster than other grasses and easy to harvest also. In summer and rainy season it covers the soil as much to prevent the moisture and soil erosion.
Where to establish cow shed:
Cow Shed should be at top of the land. It is very easy to dispose all liquid manure to crops. From this we can save manure application cost also. Establishing cow shed at the top, is very essential to cows also. They can get sufficient sun light and air circulation. Cow shed should be made by simple structure. High tech structure is not important.
Cleanliness and  health: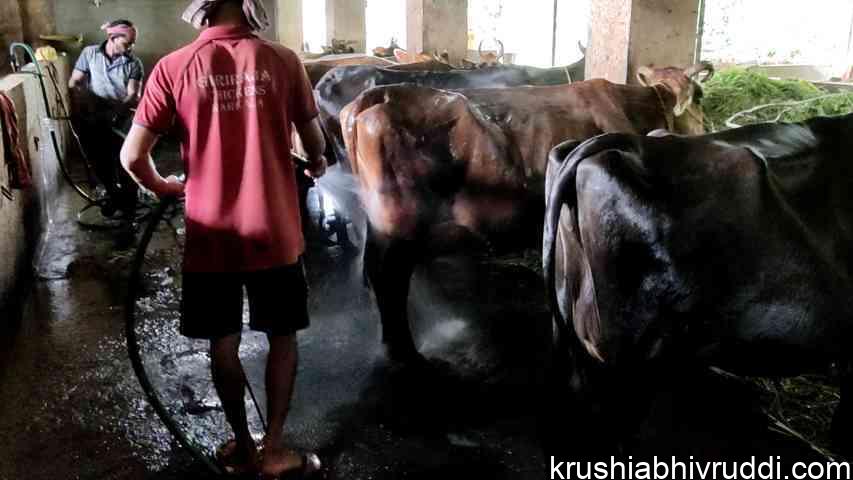 Every day twice or thrice, cattle should be cleaned by pure water. It is only for removing cow dung stick on their skin. Simple washing is enough. Resting of cows should be very essential. Cow mats are very essential and helpful to rest animals safely.
Feeds to cows: Sufficient feeds are very essential in cow farming. To get cost advantages we have to buy two – three brands and mix them. From Calf stage we have to feed required quantity of feed, then only they will reach the maturity in 12-13 months. According to age and weight we have to feed them with required quantity. Milking cows should be fed according to milk yield and body weight. Feeding helps cows to give sustainable milk yield.   
Dairy or rearing of cows is supportive occupation along with agriculture. Agriculture and dairy are the two face of same coin. Agriculture needs manure, cow rearing only the salutation to manure needs. Dairy is the cheapest factory of manure preparation. It gives manure within 24 hours. No where we can get this type of process.