Farmers' focus is now on high-income crops. Especially the sandalwood crop. A subject expert says the authenticity of this crop.
We would like to give genuine information on the world-recognized costliest aromatic tree the Sandalwood.  It is the pride of our Karnataka. This is rare and very important information, to share with sandalwood growers. Now sandalwood is growing in Karnataka and all over the states of our country. There are lakhs together hectors of Sandalwood are grown and it increases year by year. Even other countries also grow in Karnataka's pride Sandalwood.  Naturally, Sandalwood is grown from the seed spread by birds and animals. But now farmers are artificially cultivating this. In this process how farmers can cultivate it? What is the recent situation of this crop? The right answering person is Dr. K T Chandrashekar, who worked for more than 30 years in this crop. In his service, he worked on this wood science. Most of the sandalwood growers are guided by this person. Please read to the message of Dr. K T Chandrashekar sir.
What is the situation of sandalwood cultivation?
Dr. K T Chandrashekar, Retd. Senior scientist at Institute of  Wood Science and Technology (Indian council of forestry research and education) Bangalore. Worked as chief Technical Officer for 35 years. During this period his research is on Sandalwood cultivation, nursery preparation, and income generation by intercrops. For most of his service period, he worked with this crop only. Along with he is a farmer. In his service, he guided most of the Sandalwood growers.  In 2001 government of Karnataka amended partial liberalization in Sandalwood cultivation. After this many farmers's taken interest in Sandalwood cultivation. For technical information, farmers are visiting this institute. This situation urged us to study this more and more on this subject. It is not possible to give general information on cultivation methods. Specialization is very essential. Specialization comes only from research activity. So our institute opened a separate center on Sandalwood research in 1968, Dr. Chandrashekar Joined this sandalwood research center in the year 1983. Already the research work was started before the liberalization of sandalwood. To give more and more information we started a society called the Sandalwood Society of India. More than 10000 members are present in this society.  Its jurisdiction is all over India. The sandalwood growing states like Gujarat, Maharastra,  Assam, Uttara Pradesh, Andrapradesh, Telangana, Tamilnadu everywhere society is having regional centers looked after by regional secretaries. Farmers are contacted regularly by personal visits and phone contacts and social media.
In Karnataka, around 52000 acres of sandalwood cultivation is established. It will increase by 10% yearly. We calculated by sales of plants at nurseries of the Forest Department, Dindigul surrounding nurseries, and Railway Kodur,(KADAPA) nurseries. Around 2.5 to 3 crore plants are prepared and sold all over India from these nurseries.
The area occupied In India:
All over our country around 1.73000 acres of sandalwood area were exists. The main cultivating states are Karnataka, Telangana, Maharastra, Assam, Bihar, Uttara Pradesh, Tamilnadu, etc. In foreign countries also our Santalum albumen are trying to cultivate. Especially in Australia, A company named TFS has exported the seeds from Karnataka and planted around 28,000 hectares of sandalwood plantation was established there. Some other countries are also cultivated. Natural sandalwood species are found in Sri Lanka, Indonesia, and Malaysia also. But the sandal content compared to our Indian Santalum albumen is more than others. It is around 93%.   But in other countries, it is less. It is because of climate factors and natural calamities. We have got a piece of wood grown in Australia it has less Santalum content than Karnataka. Southern Indian sandalwood is superior in quality.
Which is suitable land for sandalwood planting:
In our state, there are many agriculture zones like coastal, malenadu, partial maidan belt, and maidan belts. Traditionally in MYSORE SAMSTHANAM is famous for Srigandha. So which is the most suitable area for cultivating sandalwood?
In the Mysore area Mysuru's surroundings Nagarahole forest area, Malemahadeshwara hills, Kollegala, and Br Hills are one region. Next is Beluru, Kushalnagara of Coorg, Hassan,Dry malenadu of Sakleshpura, Shimoga,  Mandagadde area, Chikmagalore, and Kadur the one belt. These are the Mysuru belts. Good quality sandalwood will be obtained from these areas. Contents like Santalum, oil, and aroma are the best of their kind. Next is the north Karnataka part, Dharwad, where a sandal wood depot also existed. Haveri, part of Raichuru, Gulburga, Ranibennuru, part of Belgaum. It is north Karnataka belt. The coastal belt or South Canara belt is also a traditional belt. Here Putturu, Sampaje, some parts of Madikeri, Karkala, Kolluru, Belthangadi.
Naturally growing area:
Before the suitable area, it is very important thing is the soil condition. Red sand mixed soil is the best soil for its growth. It is the priority. Secondly red and slightly black mixed soil. Lastly, black soil which is having good porosity. The main factor is water should not be logged. It should drain immediately. The soil which holds the water long time, especially alkaline soil is not suitable. Red soil is very well-suitable soil.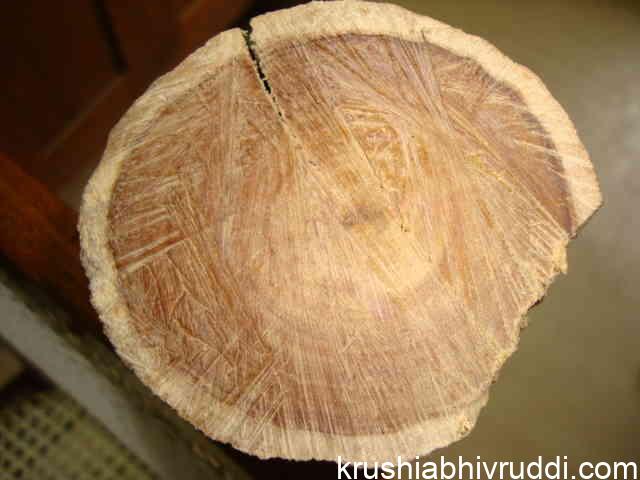 Plant selection is the main factor:
The selection of good plants is very important. The growth of the plant should be a minimum of 1 foot. Its stem should be brown. Plants should not be branched at the bottom, and straight growth should not be stopped.  ¾ part of the stem is straight and the next branch should have emerged.  If it is in green color it should not grow well. When you select the plants from the nursery, choose only this type of plant. The planting pit size is 2.5X2.5. Mix around 8 kg of farmyard manure, and ½ kg of neem cake to removed soil and fill all the soil into a pit and place the plant at the center. Before planting fungicide treatment is required to soil for preventive measures. Plant the sapling whole in a polybag and also 4 inches of stem part inside the soil. The trench method is also ok, but water should not be logged. If leaf falling takes place it is because of improper drainage. If a leaf falls started plant will not survive. To overcome this problem polybag plants should be treated with fungicides. Organic fungicide like Trichoderma is also ok. If you like chemical fungicides it is also ok. There are many fungicides brand available in the market like Bavisin, Redomil gold or Lunar, etc. If you treat with fungicides there was protection against fungal attacks in the initial growth phase.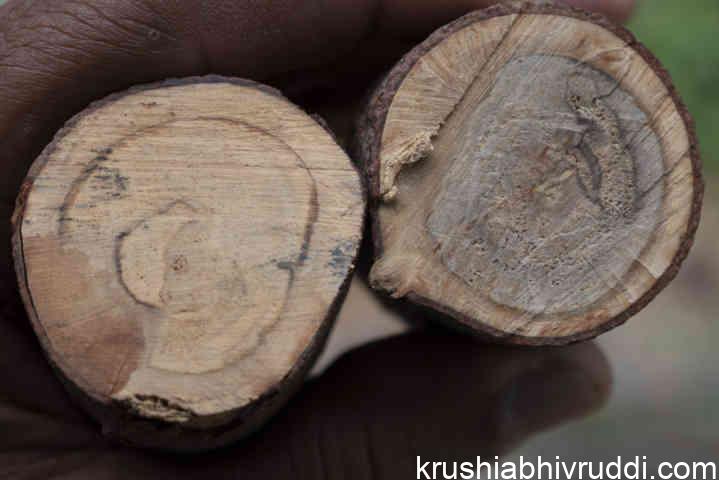 Role of seed in sandalwood cultivation:
Seed is the main factor in good sandalwood yield. A good seed from a good mother plant will transfer good character.  The complete ripened seed fruits of 10-15-year-old trees are selected. Otherwise, it is a known seed source. Or you can select the seeds from clonal orchards. In India, there is a limited source of clonal orchards. Clonal orchards are grafted plants that are studied and analyzed as good core performing trees. Sandalwood society of India is the only source of clonal orchards having 28 plants. We are grafted and planted for seed purposes only. It is a known source or reliable source. The fruit should be slowly squeezed by hand or rubbed with a stone and then washed, then we can get the seeds.   Seeds should be treated with fungicides like Bavistin.  Next, we have to transfer it into the seed bed.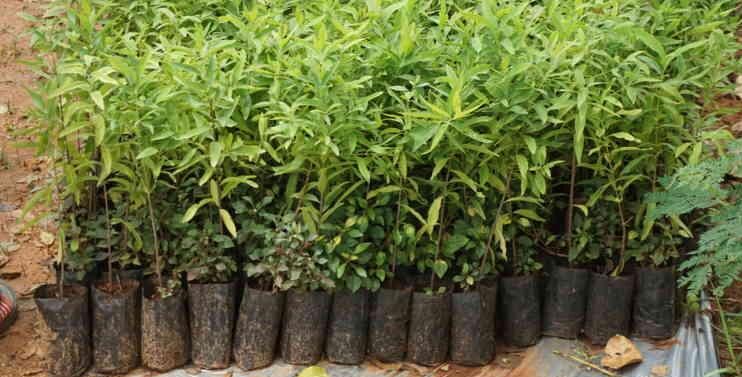 The core and seeds:
All humans are the same in general look, but there are many character differences between one other. Like that is there any difference between tree to tree when we select the seeds?  Dr. KT C  says it is one factor along with some other factors also there. 70 to 80 % of it is proven and true. A good mother plant is essential in good quality wood. The second one is climate factors and soil conditions. Soil is the main rolling factor for the formation of heartwood. Along with these two good hosts is also important. Good hosts induce good heartwood formation. In sandalwood up to 5 years of the growth phase. After that heartwood formation takes place. At first, the girth of the stem is increased, and heartwood will increases. Every year 1.5 cm of heartwood formation takes place. Seed origin, soil condition, and a good host is the main factor in the formation of heartwood.  Why we are stressed says is because we can't find heartwood for up to 5 years. Then only heartwood conversion takes place. The plant will produce seed after its growth of two years. At that time we can't find the heartwood or enzymatic activity in the stem.  After 5 years we can get a core sample also from the tree. Whether heartwood formed or not can be identified. So we recommend a minimum of 5 years of plant for seed selection.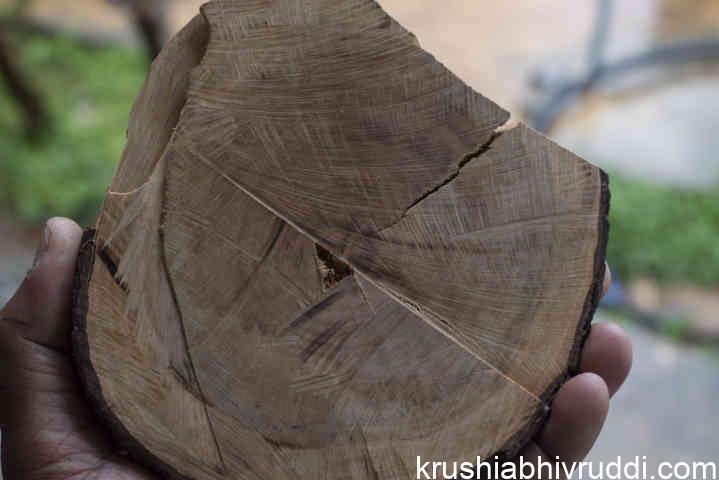 Here we can see the heartwood formation in year grown tree in its branch. Here the conversion process started and it can be seen. This is not a heartwood, only a conversion phase. It will give us a satisfactory opinion of heartwood. In the branch, we can find this. So in the main stem, it is more than a branch. This type of tree gives early heartwood and quality heartwood.   This is another range we can see the conversion by phloem to the xylem. xylem is a dead cell, phloem is a living cell.
 This is the the17-year-old tree harvested last year from our sandalwood society chairman Kodandaramayya's plot.  It was the first cultivated sandalwood harvest in Karnataka.  80 trees are harvested and sold to  KST. This is the middle part of the tree, diameter is around 4.5 inches. The tree has 16 feet in height and we got only 8.5 feet of heartwood on it. After 8.5 feet, branch formation has taken place.  After branch formation, the heartwood spread to branches and the main stem has no heartwood. So this purpose only we say nourish the plant as much as height, then allow for branch formation.  So pruning at the proper time is very important. After the growth of 70% main stem then allow for branch growth.  Pruning properly is very important. Sometimes a plant will divide at the base level. At that time both stems will not give good heartwood. If that situation came one deviated branch will be removed in the initial stage.