This small village provides permanent employment and gives economic empowerment through an arecanut dehusking unit. It is called "Adike Kana". Its story is very impressive and interesting. What is special about this unit? Where it is located and what are the advantages of this type of unit? We can see here.
About the KANA, or unit:
This arecanut processing unit is located at Kanle village, Sagara taluk, Shimogga district.
This is the major arecanut producing area in the Malenadu belt.
Kanle village is home to 100 or more Okkaliga community families.
They chose this occupation for their lives.
Throughout the year, arecanut is available for de husking. Arecanut is an agricultural product that fetches market value only after removing its husk. De husking is the major hurdle in areca nut processing everywhere.
Some machinery has come for this process, but still more than 90% of the population is dependent on manual de husking.
Here they can get more perfection than machinery.
Here, growers are not facing any hardship in manually de husking the produce.
They bring loads of raw arecanut to KANA, and they get back a de husked product in a day.
More than 100 people work here.
The output is 1-1.5 tones and above.
It is possible in this Kana only.
It is called a "manual dehusking factory."
Here, Kana runs from morning 9 to night 10.
The majority of female workers do this job in their free time.
Some male workers also do this in their free time.
Apart from this, some school and college students also work here during their holidays.
Through this, they can earn some income.
Most of all, the husk weighs around 25 kg.
Anyone who is unable to work outside can work here.
So we can observe the maximum number of aged people here.
Work procedure: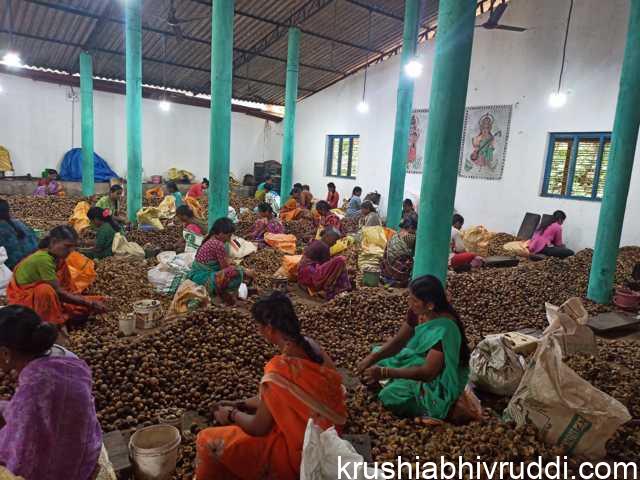 The huskers are the only locals.
But growers are bringing arecanut from various places like Sagara, Soraba, Siddapura, Hosanagara, Shikaripura, Siganduru etc.
A grower can bring his arecanut by making an appointment.
This Kana is owned by the Okkaliga community and they form the administrative body.
In the administrative body, the president, secretary, and board of directors are there.
The President or secretary will manage the arrivals.
If you have around 500 bags of raw arecanut, you can't bring them all at a time.
The secretary will specify how much quantity is required for the day.
This is because everyone should benefit.
Next, you can ask for the fresh date for procurement. 
This KANA has been running here for the last 40 years.
In the beginning, they started in a temporary shed.
Now, with the contribution from localities and their local MLA, they have constructed a building.
Here all the facilities are available.
It is like a community hall. If any marriage or any other ceremony is required, they will do it here.
On that day, there is a holiday for dehusking activity.
This unit will work for 365 days.
In the Malenadu belt, arecanut growers do red supari and white supari.
The red supari is the tender supari, which is dehusked freshly and boiled.
From October to January, all are engaged in dehusking tender supari.
After that, they start the 'Chali' or 'Gotu' arecanut.
Growers satisfaction: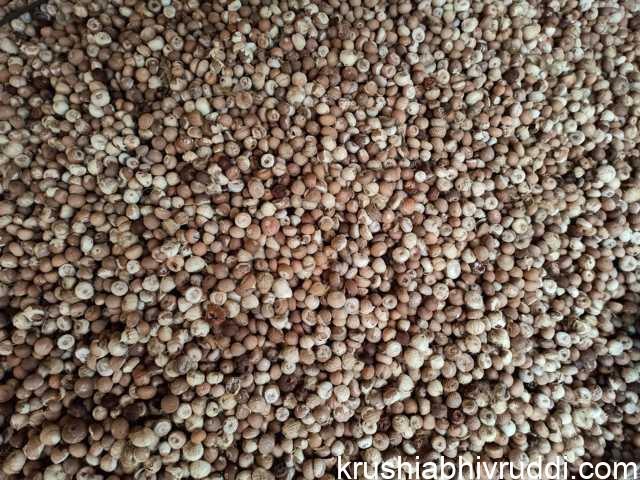 The president of this Kana, Mr. Krishnappa, says it is the only Kana that has had a good image for the last 40 years.
It is the only private society maintained by a community. so that every grower who brings nuts is satisfied.
From the start till now, there has been no complaint from any grower.
Mr. Suresh Gowdru, from Kanle, is the permanent customer who gives a good opinion about this Kana.
In our country, manpower is the main asset.
But now we are facing a serious manpower shortage in the agriculture sector.
People like agrarian work, but they want these types of facilities.
Here, work is fast and there's no shortage of workers.
One of the aged ladies who worked here for 20–25 years.
She says we are unable to work on plantations.
Here we have freedom to work.
So how much work do I do here? I can get remuneration.
If it is less or more of a bother, I am satisfied.
One grower Suresh Gowdru from Kanle says he always belive with this Kana,
Most of the growers are same opinion.
Output and charges:
When bringing raw nuts to dehusking party presence for the full day is not necessary.
At the time of output calculation, presence is required.
Here still they measure the quantity of output by kilogram.
It is calculated by a container called 'GIDNA'.
It weighed around 2.5-3 kg. For one GIDNA worker, they will get Rs. 25.
A person can dehusk an average of 10–15 GIDNA of nuts.
It is the ideal system of rural employment and rural economic empowerment. Rural households are satisfied with this system, and they have a steady source of income. Now our Karnataka state is becoming a hub of arecanut plantations. This type of dehusking and other plantation labor force will be critical in the future.