Here we take in a progressive farmer, who is managing his areca nut garden expenses by spice intercrops. This is Mr. KV Timmappa Hegade, of Khandika village of Sagara taluk Shimogga Dist, Karnataka. Around 40  years back his father Late Venkatagiriyappa Hegade, thought areca nut garden must have intercrops. He visited many places and selected ideal intercrops like Nutmeg, (Jayi spice)Clove, and Coco crops. Sri Thimmappa Hegade continued his father's wish and extended all the above intercrops and maintained well. Now he is earning maximum expenses of garden management by intercrops and he says by experience, Tree spices like Nutmeg is the best long-term intercrop for all areca nut growers.
In the Garden, he is having around 600 big and small nutmeg trees around 50 clove trees, and 500 above coco plants. In Nutmeg crop only he is earning up to 6 lakh of income and some from other crops.  From all these crops he is managing almost all maintenance of areca garden. Now areca nut farmers have a fear that what will happen in a few years. Areca nut cultivation area is increasing exorbitantly. If all plantations start to yield definitely there will be a price crash. At that time farmers were servive only by profitable intercrops.
Best spice crop:
He says nutmeg was planted 45 years back by his father. He planted 100 seed propagated plants. Among these few become male and few do not survived. Ultimately 80 plants are established.  From this source, Thimmappa Hegade increased the plant population. All are seed propagated plants and he says it is a good method of propagation because it is a tree crop.
The distance from the plant to plant is 25 feet. Now he is having 600-800 big and small plants. In an acre of area 60 plants will be accommodated. From 60 plants after 12 years minimum of around 1,20,000  income is expected. The total expenses for this are around 25000. No other crop can give 1,00000  net income.  Coco is a good crop but its price is always fluctuating. The existing price of Coco beans is not much remunerative. Monkeys are the main threat to this crop. Even Clove is also at present not profitable because it is highly labor oriented. Per Kg we can get a maximum of 300 Rs. Nutmeg is a highly profitable crop.
Nutmeg's price is very attractive. In nutmeg two products are marketable. One is Nutmeg seed, another mace. Nutmeg seed fetches around 300 Rs, per Kg and mace is around 1500 Rs per Kg. 1000 -1200 nut mace will be required for one kilogram. It is 2 rupees per mace. Around 100-125 seeds are required to weigh one kg, one seed gets around 3 Rs.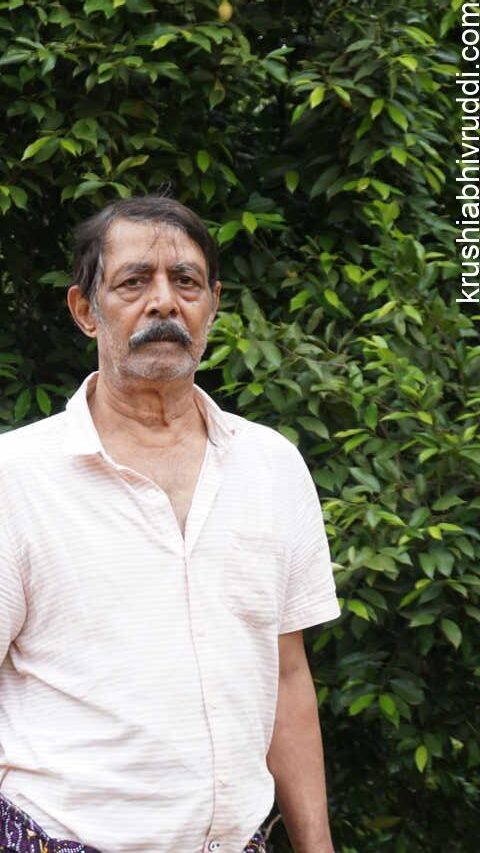 Harvest is seasonal. When the nut matures it will split like this. During that time we have to harvest manually. Some nuts will drop automatically when it opens. Harvesting charges only the cost of production. 50-100 nuts are available for harvest on a season day.  Manure is also not required much. It is a wild tree crop having deep tap roots. So it will collect the nutrients from deeper soil also. How much we use manure for areca nut is enough for its requirement. Water requirements are also very less. We have trees Clove and Coco, we do its harvest and maintenance.
How many years are required to get yield?
Nutmeg starts yielding after the 5th year of panting. In this period only 50-100 nuts are available for harvest. Good yield will start only after the 12th year onward. After the 12th year after year yield will increases. The average yield after this year is 1000 nuts. We have a 45-50-year-old tree, from this we get above 5000-6000 nuts in a year. No pesticide and fungicide spray is required. Even monkeys also do not touch this.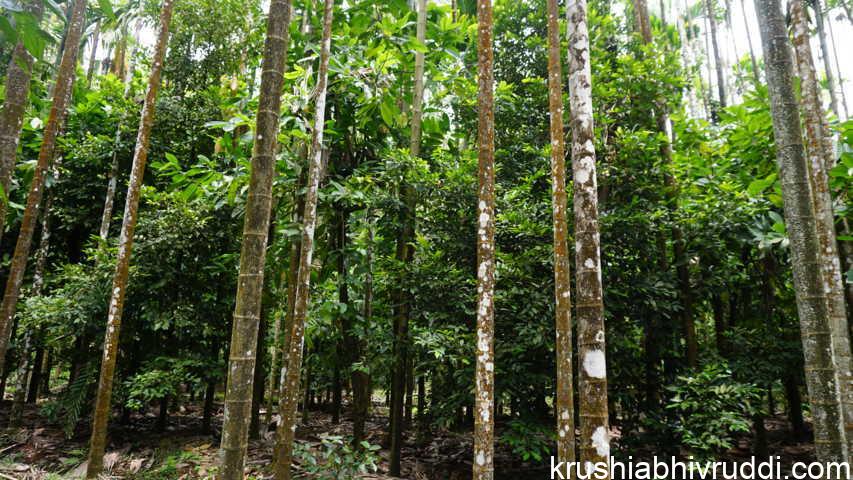 Which is the best Planting material?
Here in Nutmeg, there was a problem with Male and female plants. Female plants only yield nuts. For this drawback, some people introduced grafted plants. According to Timmappa Hegade, Seed propagation is good. He cultivated only seed propagated plants in his garden. Less than 10% of male plants he observed. According to some Keralians said this variety is bisexual, so there was no problem in pollination.  He says "I do not know much about this". In Kerala, farmers say one or two male plants are essential for pollination purposes. Year after year yield will increases. The life span of the tree is more than 100 years.
Any drawbacks when planted in Areca garden?
Here Only problem is no inter planting of areca nut is not possible because of shade. Other than trees having no competition like roots, manure light, etc.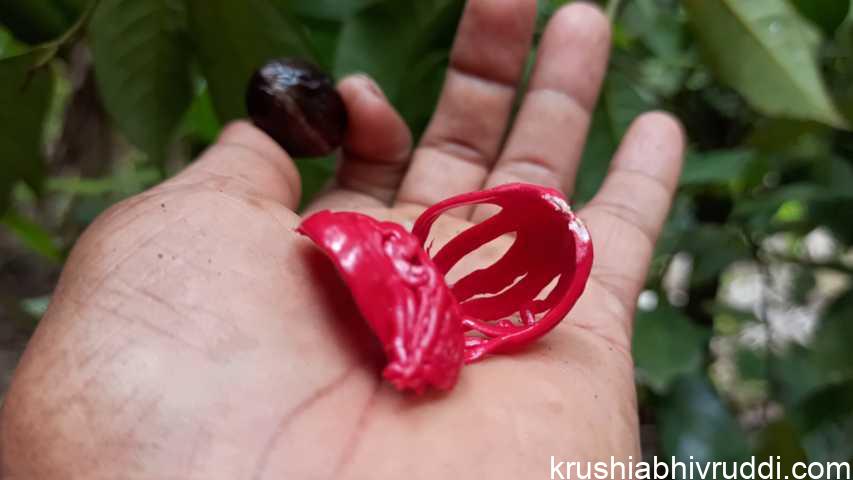 Harvest Season:
 In the coastal belt, the harvest will start from June onwards. Here at malenadu, from August onwards harvest starts. Ends in October.  Harvesting clove is very hard because it requires skilled labor. Even in our area, the yield is also less. In 25 years old tree around 6 kg of Dry clove is available. Coco will be available all over the year. But the major threat is a monkey. If there was no monkey problem, it is also profitable. Mr. Hegade has done an Organic garden certification also. If he wants to sell his product as an Organic product, this certification is helpful.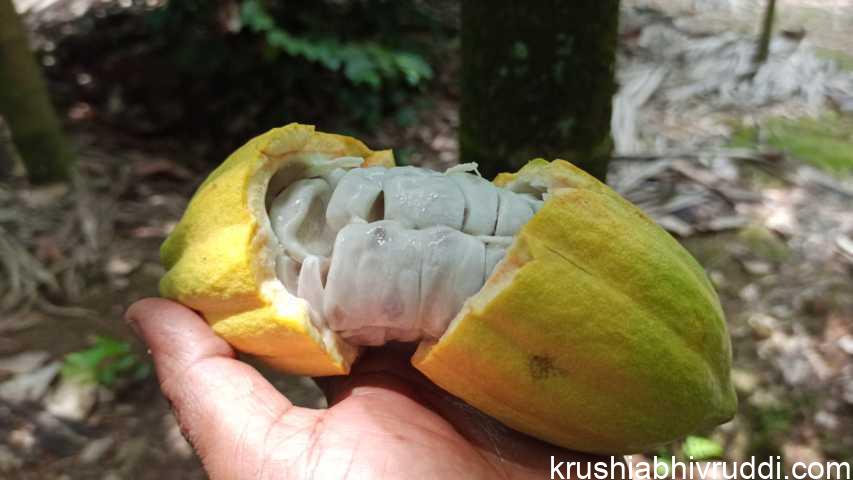 Timmappa Hegade is having 8.5 acres of cultivated land with this around 800 Nutmeg trees. 5-6 lakhs of Gross income from Nutmeg. 30% of plants are small, if it starts regular yield the income will cross 10,0000 per year from Nutmeg only.1.5 lakhs of income from Coco crop. For labor etc per month, he requires 1 lakhs for expenses. 80% of this will be recovered from intercrops. With is two-three years all Nutmeg trees start regular yield all expenses are recovered from intercrop.
What is the scope of Arecanut?
In recent three years, Karnataka and neighboring states are cultivating areca nut in full swing. The rapid increase of area gardens harms the price. At that time farmers can survive only by intercrops like Nutmeg, Coco, etc.  If we think of the labor problem now and in the future, Arecanut farming is very hardship. This Nutmeg is no such problem. This crop is suitable not only in Costal and Malenadu, but it will come up well in Maidan belts also. The demand for this is very good in future also.