The severe drought and higher temperatures, traditional areca nut growing belts are expected to lose of crop around 50%. Anywhere travel in these areas we notice that plant's leaves become yellow and few have already died. Almost all plantations suffer from water scarcity. Everywhere we find borewell digging activities. Most of the existing borewells are dried up and the water table will become deeper. The yield in the recently dug well is very less. It has been almost two months since the rivers dried up. Farmers are losing hope in areca nut cultivation!
Arecanut is the main horticulture crop in Coastal Karnataka, Malenadu, and neighboring districts. Because of attractive prices over the last three years, the cultivation area is increasing tremendously in traditional and non-traditional areas. Some statistics declare that more than 70% of the land is under areca nut cultivation. Most of the farmers are dependent on underground water sources. This year we have seen the last rain in October 2022 month. Till today there was no rain shower. The temperature at noon time is around 390-400 in some areas. In this situation, areca nut tree leaves become yellowish and dried.
Climate change is the root cause:
Because of higher temperatures and comparatively less humidity, the pest-like mite attack is severe in almost all areas.
Young and aged plants are affected.
This red mite or red plam mite (Raoiella indica) belongs to the Arthropodas family, they are more active in warm arid, and dry weather conditions. 
Areca nut plants are always more susceptible to red and white mites (Oligonychus indica).
If climate factors are favorable for farm activity,  its attack is less.
if it is unfavorable like this year its attack is severe.
These mites attack the undersurface of lower leaves and spread to all leaves up to the unopened leaf stick.
It also spread into inflorescence and nuts in some serious conditions.
This year, because of climate change mites attack is abnormal because it spread to all leaves and some inflorescence and tender nuts.
Extreme drying of inflorescence and nut shedding has started.
Plants become vigor loss. Areca nut plants require good irrigation in the peak summer season.
Due to this year's weather, trees are not responding even to irrigation.
This year water source condition is worrisome. So that the mites become dominant.
These mites will suck the chlorophylls of leaves living in the lower space of leaves.
This pest lives in many host plants. From there it will spread to other crops.
In Areca nut plantation always we find the mites.
Many times its damage is minimum. It is less active in rainy and cold conditions.
If there was a severe mite attack, more leaves will damage.
Then photosynthesis will be less. So it will damage the crop and harm the health of plants.
So yield in forthcoming years also decreases.
This year more than 75% of areca nut gardens are more or less damaged by water scarcity and mite attacks.
If there was no rain till the end of May damage to the crop is added.
The dangerous leaf spot disease also supported to depletion of plant health.
So the next year's production will be expected to be down  up to 50%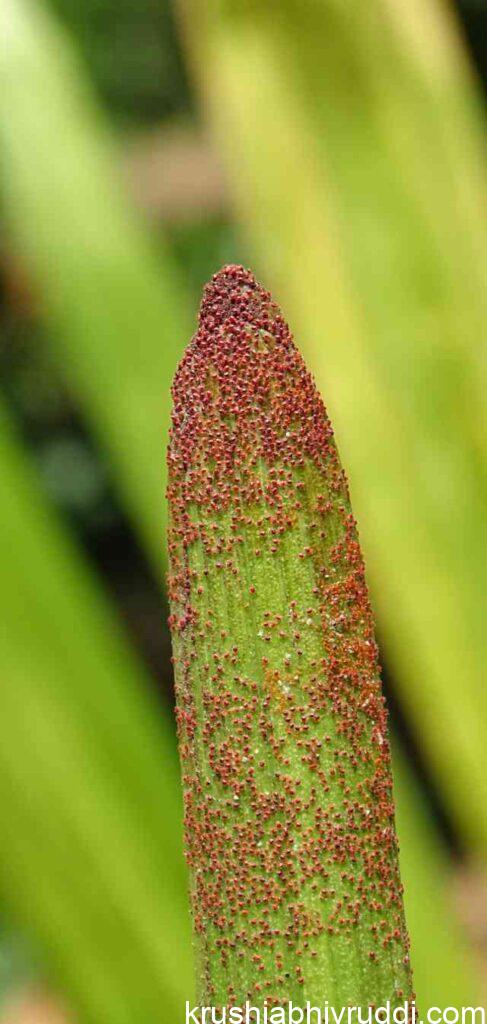 How to control mites: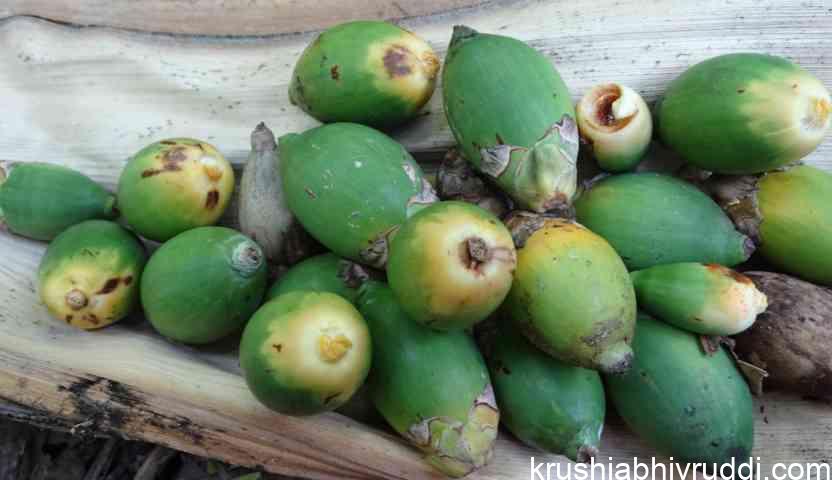 The reason for the Mite attack is high temperature, less water negligence in plantation nourishment, and imbalance in manuring.
According to the observations where the gardens are located at the bottom of valley, the plants are less affected.
Where there is shade on the south side, there was not much damage.  
The experts say the areca nut crop requires around 30-35 degree temperature.
After that, the trunk of the plant will damage, and also pest problems like a mite are severe.
Now the latest plantations are not in this direction.
So the pest and disease incidents are more. Controlling mites and bugs is a big challenge.
It will not be eradicated in some cases. In the Initial stages, its control is easy and cheap.
Spraying the oldest and cheapest safe chemicals like wettable sulfur will be enough.
In the first stage, a few mites will find on the lower side of the oldest green leaf.
Keen observation is very essential.
Good eyesight is important.
Otherwise, Take a close-up photograph of it and zoom it in to find its existence.
Another way is rubbing the clean finger upon the lower side of the leaf.
If there was any pest like a mite, the red color will stick to the finger.
If it is a white mite dry finger will be sticking with light moisture.
In severe damage pesticides are necessary.
There are many effective miticides available now to control mites and their larvae.
Spraying pesticides will stop the spread of the pest.
The damage that happened was not cured.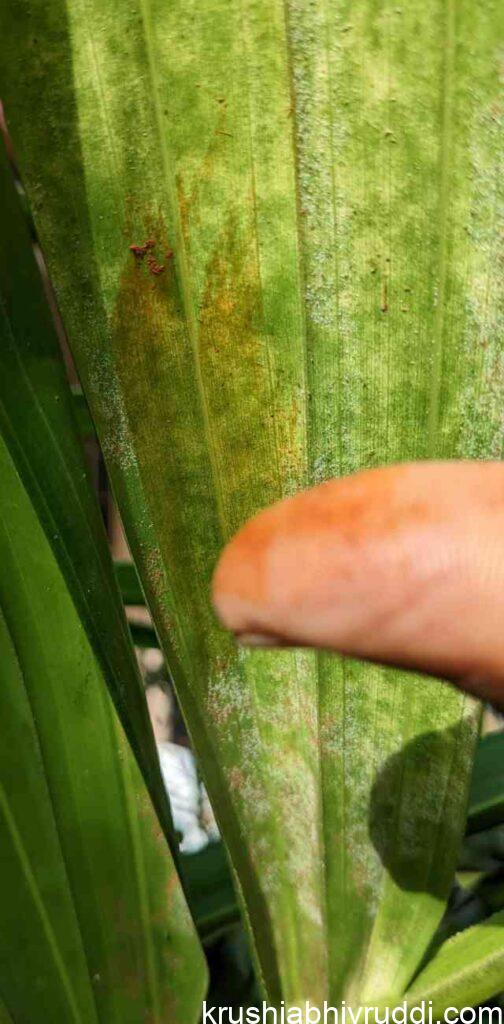 Arecanut crop is more remunerative comparatively to other crops in many coastal and Malenadu areas of Karnataka. But now farmers are planting in unfertile and open lands disturbing the trees and shrubs. Because of this the pest rest in the areca nut crop. Shade and keen observation are very important. Repeated attacks by insects and diseases damage the health of plants.